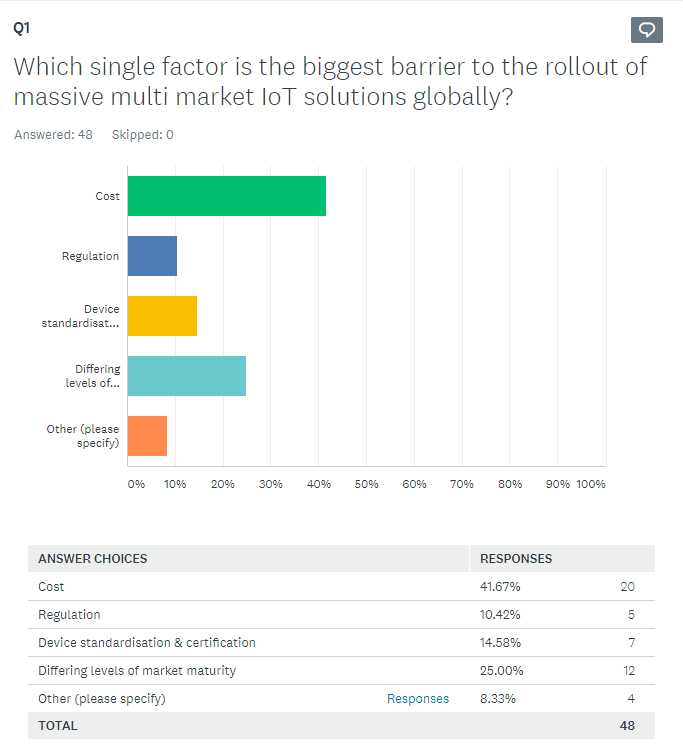 In a poll we conducted before and during our recently "Navigating APAC's Fragmented IoT Landscape", many attendees attributed the biggest barrier to multi-market IoT solutions to "cost." But is cost merely a symptom of the larger issue of fragmentation?
David Pigot, our Director of IoT and Enterprise Mobility discussed this issue in depth with panelists to pick their thoughts. This video features Stephen Dane of Ericsson, Dennis Wong of Singtel, Chetan Deshpande of Harman Connected Services, Craig Price of PCCW Global, Zhang Tao of China Telecom Global, and Richard Cockle of GSMA.
Stephan Dane, Global Head of IoT Sales and Customer Success, Ericsson
Cost is always a conversation, I prefer to think of it as value, and the return on investment (ROI). It really does depend on the use case and that vertical form of application of technology to deliver that business opportunity. If we broaden IoT out into being crucial to digital transformation, then it becomes a different conversation rather than just, "here's a project that is going to cost me money". There are ways of certainly, managing and controlling that cost, from a connectivity perspective. Working together with Ericsson and Bridge Alliance, we can address that and provide that connectivity in a cost-effective manner.
Dennis Wong, VP, Enterprise Mobility Products & Platforms, Group Enterprise, Singtel
I think the cost is a resultant of the rest of those things—the device, compatibility, the regulations and maturity—because of that, it is more fragmented. And therefore, for you to implement it, the solution becomes costly. It creates a value question, and it becomes a cost problem. So, it is like a summation and a resultant of that. I don't really see that as a problem. If you take out the cost and break it up, probably all the other factors are a component of those things.
Chetan Deshpande, Associate Director, Advance Market Products (Automotive), Harman Connected Services
Cost is really a culmination of all the other problems of fragmentation that we see—that is one thing that we can materialize, the rest are all abstract. That's what the customer can see. If all the smart people in the world can solve this, I'm in good business.
Craig Price, SVP, Mobility Products and Marketing, PCCW Global
I would see that market maturity and fragmentation being one of the core issues that face in Southeast Asia but also globally with these particular [IoT] services. There's a significant amount of fragmentation at a more granular level if you look only at connectivity, then fragmentation in OSS, multi-protocol management i.e. Sigfox and WiFI are all part of the equation. Even in the wholesale market which normally discourages fragmentation it is being experienced especially with regard to IMSI sales to third parties. It's an interesting area to look at. I suppose that one of the things that challenges us is having to predict the fragmentation and a lot of work goes into that."
Zhang Tao, VP of Overseas Mobility Business, China Telecom Global
We talk about IoT connectivity, but I think from the customer perspective, the majority of the cost is not related to connectivity, but related to the IT or cloud deployment, or other type of services which are all related to their specific product. I think maybe, the customer is thinking about overall budget and overall cost control, and also in majority of the case, the cost would be unpredictable and uncontrollable. So, I fully agree with the result from the customer's choice.
Richard Cockle, Global Head of IoT, Identity and Big Data, GSMA
I think it comes down to where we are in the journey of the challenges. From a cost perspective, that's all around—going back to the point Stephen made about the value of making sure of the solution you got has got a certain value that will be worth what you need to invest in. And going back to the harmonization point, that can be from a technical and regulatory perspective. If you're having to do the same thing slightly differently, in many different ways, you're never going to get the scale or start driving down the cost associated with it. It's almost like two layers—we've got challenges that we need to address to get a local solution to scale but the promise of IoT is landscape which is a global platform, and so regulation consistency is going to be critical in making that a reality.
Watch our full webinar here for more insights on IoT market fragmentation in Asia-Pacific, or get in touch to find out how Bridge Alliance can help with your IoT requirements.
Our be in conversation webinar series brings together thought leaders across our ecosystem, delivering industry leading conversations on today's pressing concerns and its impacts, through curated speakers and bespoke content.