The IoT solution gathers top tier operators on a single platform to simplify regional deployment workflows
Bridge Alliance was named one of the Top 10 IoT Solution Providers – 2019 by APAC CIOoutlook, an independent publisher of a technology magazine.
The annual listing, now in its fourth edition, highlights the most prominent organisations in the industry who are competent in leading their clients towards excellence by offering innovative solutions in the Internet of Things (IoT) landscape.
Around 250 subscriber-nominated companies were scrutinised before an evaluation panel came together to assess a shortlist of 25 nominees. Among the assessment criteria were how effectively the company addresses market pain points and how future-proof the solution is.
"Our evaluation panel is duly impressed by Bridge Alliance's expertise in offering outstanding services in the machine-to-machine (M2M) or IoT deployment space for premier operators and their customers in the APAC. Their vision to provide a platform for enterprises to deploy services without border restrictions is highly regarded and it made way for Bridge Alliance to be on the finalist of Top 10 Companies," commented the evaluation panel.
Bridge Alliance comprises 34 premier operators in Asia Pacific, Middle East and Africa, with strategic partnerships in Europe and the Americas extending its coverage of leading networks. Banding together top tier operators around the world simplifies the workflow for companies looking to deploy IoT-powered solutions or products in multiple countries.
"The technology space is advancing so quickly that enterprises are looking for partners that can help them navigate the fragmented market with speed and at scale. Simplicity is a crucial factor to a smooth integration and shorter go-to-market periods for enterprises with regional IoT needs," said Ong Geok Chwee, CEO of Bridge Alliance.
"It is all about designing with the customer in mind. By bringing top tier networks across the region onto a single platform with a master service agreement, Bridge Alliance helps reduce the complexities in logistical operations and system integration. This lowers the cost and time to contract for enterprises, enabling them to concentrate more on their business."
This is the second recognition the IoT solution has received for its borderless vision. In June 2018, Bridge Alliance's Regional IoT Connectivity Management won the Most Innovative IoT Solution at the 2018 Asia Communication Awards.
"Making the Top 10 IoT Solution Providers is affirmation to the power of collective strength that working together as an alliance of trusted partners brings, not only to our member operators and their customers, but to the wider ecosystem as well," added Geok Chwee. "Bridge Alliance is thrilled to work more closely with our members and ecosystem of partners to drive digital transformation as an IoT gateway to Asia."
–
Read APAC CIOoutlook's feature of Bridge Alliance here.
For the full list of Top 10 IoT Solution Providers – 2019 by APAC CIOoutlook, click here.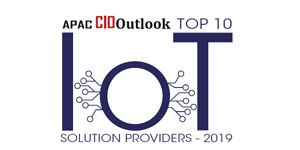 For further illustration of how Bridge Alliance's Regional IoT Connectivity Management helps simplify regional IoT deployment workflows, watch this example of smart car production: