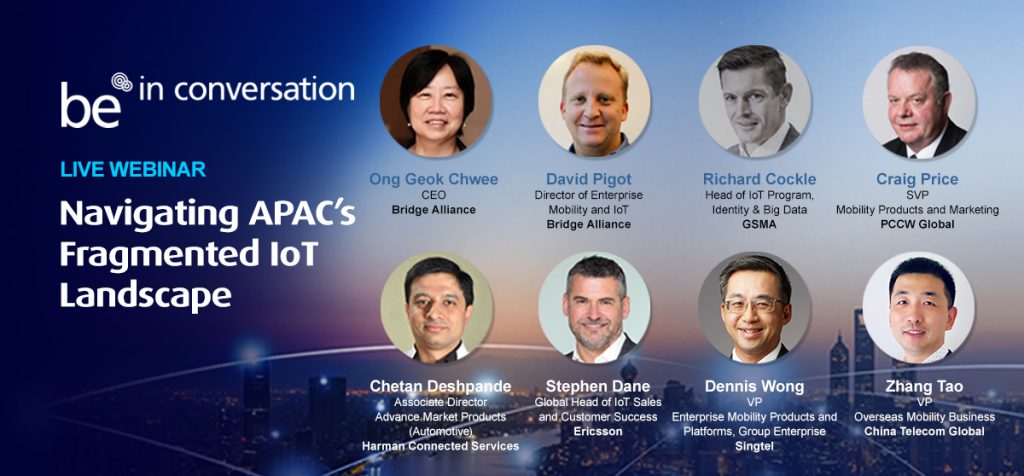 Asia-Pacific (APAC) is a challenging region for businesses to penetrate because of its highly fragmented nature. It consists of countries like India, Japan, and Australia that are tied together by common geographical features but have very little in common.
Businesses that want to tap into APAC will need to take on a different approach for each country, adjusting its products and services to suit the market and complying with a unique set of standards and regulations every time. At the end of the day, businesses spend more time, money, and effort trying to reach these markets, which can make it difficult for the region's IoT scene to evolve.
How can businesses navigate this fragmentation and what can telcos do to ease their challenges? This is what we set out to answer in the first of their new series of webinars: "Navigating APAC's fragmented IoT landscape."
Biggest barrier to global roll out
In a poll conducted by Bridge Alliance before and during the webinar, many attendees attributed the biggest barrier to multi-market IoT solutions to "cost." As businesses have to jump through hoops to roll out products in different countries, they inevitably end up piling on the costs. Chetan Deshpande, Associate Director, Advance Market Products (Automotive) at Harman Connected Services, illustrated the issues of localizing a global platform.
Whenever they adapt their product to a new market, they need to adjust the following:
Localization. To accommodate the various languages spoken in the region, Harman has had to create a multilingual interface that can accommodate the linguistic and cultural nuances in certain countries. In Thailand, for example, it is common practice to change your birth name.
Hardware technologies. Some countries like Singapore are already gearing up for 5G networks with their 39.3 Mbps mobile download speeds, while others like Thailand, Indonesia, and the Philippines are lagging behind with an average download speed of 7 Mbps and below.
Regulations and certifications. Each country has its own regulation and policies when it comes to privacy, security, and the like, such as KYC (know your customer) guidelines and MNO (mobile network operator) certifications. Even if requirements are met and testing has already been done, a country may require further testing within its own borders.
Data privacy. Some countries are stricter than others and require even more security components present in a cloud-based platform.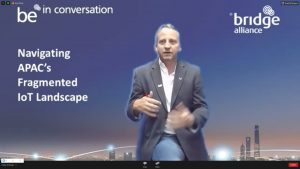 These are just a few examples of adaptation considerations for the APAC region for businesses with IoT solutions. There are also issues of logistics, payments, and customer support.
"Asia is a diverse minefield of large markets that pose market space fragmentation challenges across industries and geographies. Different states of maturity, regulation, and lack of standardization are a few of the key issues facing customers looking to roll out in the region today," notes David Pigot, Director of Enterprise Mobility and IoT for Bridge Alliance, at the beginning of the session.
Collaborate to solve fragmentation
In order to address market fragmentation in APAC, IoT businesses can work with organizations like Bridge Alliance to standardize policies and regulations, consolidate requirements, and provide local support for those looking to expand in the region.
Richard Cockle, Global Head of IoT, Identity, and Big Data at GSMA shared that the organisation has been doing over the years to tackle some of the world's most pressing issues. GSMA's board is comprised of 25 members that are a mix of large operator groups and smaller, independent operators groups. By mobilizing their community, they were able to push forward with global policy incentives that forward digital innovation like mobile IoT, eSIM provisioning, and IoT SAFE. Watch his full presentation "Building Global Successes Through Collaboration" here.
That same collaboration within the telco space can be used to develop IoT within the APAC region. Of course, this is easier said than done.
During the panel discussion, key players in the IoT field discussed some of the caveats of APAC-wide collaboration. In order to reconcile these differences, operators and industry players need to do four things:
Open the discussion between industry players to discuss a common future. The vision of one sector may differ from the vision of another, and in some cases may even require the complete overhaul of hardware in one sector, which is extremely cost-prohibitive. Players need to have and work towards a shared vision.
Pool information and derive insights to determine next steps. The depth of information required to understand the common requirements of each market within each vertical is going to require lots of research and information-sharing from industry players. It's impossible for one operator in one country to understand the landscape and requirements of another.
Drive new innovations to achieve that common future. This will equalize the innovations available within the region. For example, how can you use new technologies like blockchain to enforce seamless billing options across the entire region?
Collaborate with end-users to figure out what's best for them. Last but not least, determine whether this shared vision is acceptable to the market. Using the same example of blockchain, you need to simultaneously ask yourself whether the market is ready for cashless billing options powered by blockchain in the first place.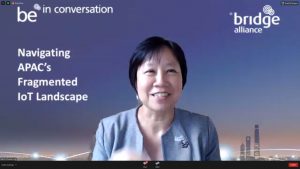 Luckily, there are already ecosystems in place to open the discussion for these issues. Pooling information together and having conversations with a variety of industry players can help contribute to standardization and pave the way to a more seamless future for IoT.
This is our goal.
"Bridge Alliance is our IoT Gateway to Asia partnering with customers in achieving the results that you desire through working closely with our member operators, bringing you the local expertise and strong domestic support, while enjoying the convenience of working with a tightly knitted entity," says Geok Chwee Ong, CEO of Bridge Alliance.
Missed the webinar? Rewatch it here, and stay tuned for our series of follow up content distilling highlights of the conversation.
Our be in conversation webinar series brings together thought leaders across our ecosystem, delivering industry leading conversations on today's pressing concerns and its impacts, through curated speakers and bespoke content.