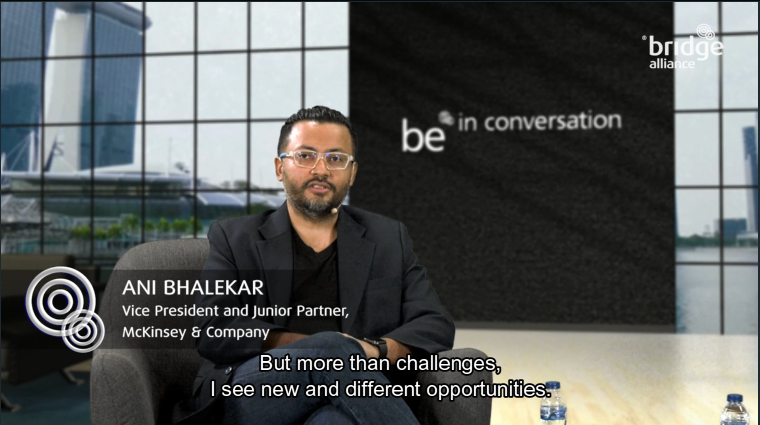 We're excited to kick off our be in conversation video series, where we spark off new ideas, drive deeper collaboration and propel our industry forward with members across our Bridge Ecosystem.
COVID-19 has changed our lives and livelihoods and 2021 will be the year of transition. In our first episode, our CEO, Ong Geok Chwee, sit down with our BEACON member Ani Bhalekar, Vice President & Junior Partner at McKinsey & Company as he sheds interesting insight on what business leaders should keep in mind this year, and why digital as a suite of technologies will take centrestage in the path to recovery and across industry transformation.
Also find out why the telco industry has become ever more central to how modern society operates, and why above all, telcos must think about the future role that they want to play in society, within their communities, and also within their ecosystems.
Geok Chwee: So in the last 12-18 months, a lot of things have changed. So how has the global pandemic changed the way you look at business?
Ani Bhalekar: There are a lot of challenges, but more than challenges, I see more new and different opportunities. Across industries, COVID-19 has changed our lives and livelihoods. 2021 will be the year of transition. Barring any unexpected catastrophes, individuals, businesses, and society can start to look forward to shaping their futures rather than just grinding through the present. Some factors that business leaders should keep in mind as they prepare for the new normal are:
The return of confidence is unleashing a consumer rebound – As consumer confidence returns, so will spending, with "revenge shopping" sweeping through sectors as pent-up demand is unleashed. That has been the experience of all previous economic downturns. One difference, however, is that services have been particularly hard hit this time. The bounce back will therefore likely emphasize those businesses, particularly the ones that have a communal element, such as restaurants and entertainment venues.
A wave of innovation is launching a generation of entrepreneurs – Necessity is indeed the mother of invention. During the COVID-19 crisis, one area that has seen tremendous growth is digitization, meaning everything from online customer service to remote working to supply-chain reinvention to the use of artificial intelligence and machine learning.
Digitally enabled productivity gains are accelerating the Fourth Industrial Revolution – The great acceleration in the use of technology, digitization, and new forms of working is going to be sustained. Supply chains are rebalancing and shifting – Think of it as "just in time plus." The "plus" stands for "just in case," meaning more sophisticated risk management. The future of work is arriving ahead of schedule – Before the COVID-19 crisis, the idea of remote working was in the air but not proceeding very far or fast. But the pandemic changed that, with tens of millions of people transitioning to working from home, essentially overnight, in a wide range of industries.
Last but not the least, green, is the color of recovery – All over the world, the costs of pollution—and the benefits of environmental sustainability—are increasingly recognized. China and India are investing in green energy on a scale that would have been considered improbable even a decade ago.
So, overall, a lot of opportunities and quite a bit to look forward to in the new normal.
Geok Chwee: And with all these shifts in the market trends and how we work, what is your view on emerging technologies being a key enabler for all these?
Ani Bhalekar: Digital – as a suite of technologies – will undoubtably take centerstage in the path to recovery and across industry transformations. We suggest four immediate efforts to realign the digital agenda and implement the enablers for acceleration – like emerging technologies – during the recovery and beyond.
Refocus digital efforts toward changing customer expectations – Many companies are accelerating their shifts toward digital-first models—at warp speed. One European store chain, for example, established a fully functioning e-commerce business in just three months. The online business was interconnected across all functions (warehousing, merchandising, marketing, customer support, et cetera) and they also improved basket size over physical stores by three times as well as delivering nearly 3 percent like-for-like revenue growth in its main market.
The second effort: to use new data and artificial intelligence to improve business operations – Hundreds of operational decisions get made on daily, weekly, and monthly bases. Take an airline, for example, that must make many decisions: Which routes should we operate? What crew size is optimal for each flight? How many meals should we order? What staffing level is necessary in the contact center? Modern businesses have several forecasting and planning models to guide such operational decisions. Organizations will need to validate these models. In the same way that many companies had to rebuild risk and financial models that failed during the 2008 financial collapse, models will similarly need to be replaced because of the massive economic and structural shifts caused by the pandemic. For example, models that use timeseries oil-price or unemployment data will need to be rebuilt entirely. The data itself, must be re-evaluated as well.
The third immediate effort is to selectively modernize technology capabilities – Successfully executing the described agenda requires investment capacity and development velocity. CIOs can contribute to both by rightsizing the IT cost structure to new demand levels and reinvesting the freed-up resources into customer facing digital solutions. Companies can also dedicate some of the savings to modernizing selectively the technology stack and software development tooling.
Lastly, it is important to increase the organizational drumbeat – The current crisis has forced organizations to adapt rapidly to new realities, opening everyone's eyes to new, faster ways of working with customers, suppliers, and colleagues. Companies that have led the way in adopting flatter, fully agile organizational models have shown substantial improvements in both execution pace and productivity. This has held true during the crisis, as we see a direct correlation between precrisis agile maturity and the time it has taken companies to launch a first, crisis-related product or service.
All of the above can be thought of as a 90-day plan to embrace the digital agenda and emerging technologies that will positively impact the transformation of most industries and organisations.
Geok Chwee: And how do you see telcos playing a key role as an enabler in all these when the enterprises are looking forward to transform themselves?
Ani Bhalekar: The biggest impact that the COVID-19 crisis has had so far on the telecom industry has been that the industry has become ever more central to how modern society operates. Think about how many people had the need to work from home and to log into the system—videoconferencing has been booming; file sharing has been booming.
Also, public health has been one of the key examples of how telecom operators have stepped up to the challenge and supported the transition. They have supported creation of contagion heat maps. They've even partnered with organizations to create virtual clinics. The initiatives and measures that used to take months—for example, creating a partnership—are now taking just a couple of days or, maximum, a couple of weeks. An example of great resilience from a telco in this crisis is Telecom Italia. It moved from having its call-center agents working in the physical call center, which is the only place they had ever worked, to having 3,500 call-center agents working from home. And within the next 72 hours, I believe, the entire group of 7,000 agents were working from home.
In addition, People are realizing the strong value of not just a broadband connection but a very viable, robust, and resilient broadband connection. They're willing to pay more for fiber optics than they were before. So I think there's an opportunity to upgrade from plain old connectivity and move to 5G—consumers potentially being willing to pay a premium for 5G, almost as an insurance policy. Also, operators are looking into providing an expanded set of services with higher bandwidth: educational services, entertainment services, digital-business building—for example, supporting retail customers in being able to sell online.
Given what most companies have gone through, the realization that having resilient connectivity with your employees across a wide-area footprint is increasingly important. And so I think if the telcos play this right and really define their propositions in an attractive way, this could be a very lucrative way going forward. How do we create new applications that allow safer home working but also allow tracking and tracing of infections to limit the spread of the virus? How do we allow for more effective remote learning? How do we enable students in very remote areas to have the same level of access to high-end education as people in metropolitan areas? These types of things, I think, are potential expansion opportunities for telcos.
Above all, telecom operators need to think about the future: the future role that they want to play in society, within their communities, and also within their ecosystems. That is really going to drive the opportunity going forward.