Come engage in tech-talk with Bridge Alliance over breakfast with ConnecTechAsia!
Digital Transformation has undoubtedly been a major talking point across all industries. ConnecTechAsia exclusively invites all C-Suites and senior executives to join us at #ConnecTechAsia's Breakfast Tech Talk, where experts (Andrew Milroy, Geok Chwee Ong, Charlene Wong, Ivan Ferrari, CMP) from Ovum, Bridge Alliance, IMDA, and UBM respectively, will discuss how technologies such as Artificial Intelligence, IoT, Cloud Computing, and Blockchain have transformed societies, economies and workplaces.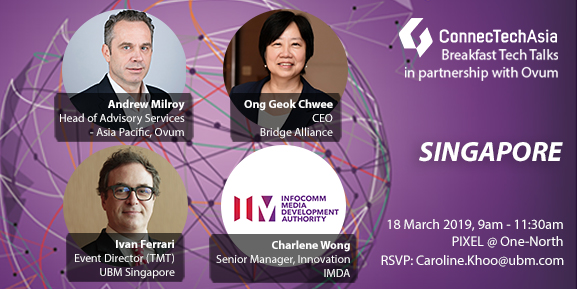 Plus, discover how 5G can act as a catalyst for the deployment of new technologies, and how cybersecurity issues will dominate technology decision making!
This ConnecTechAsia Breakfast Tech Talk is the first of four in the series, happening in Singapore, Jakarta, Bangkok and Kuala Lumpur.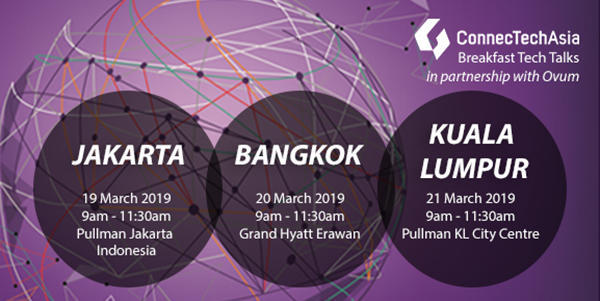 RSVP to Caroline.Khoo@ubm.com, seats are limited.
About ConnecTechAsia – Asia's MEGA Technology Event

Bringing together BroadcastAsia, CommunicAsia and NXTAsia across 2 venues, ConnecTechAsia showcases state-of-the-art communication, enterprise, broadcast technologies and innovations. Coupled with a supercharged agenda with renowned speakers at ConnecTechAsia Summit, and a host of experiential activities, ConnecTechAsia paves Asia's future for technology.
Yet to get your passes? Take advantage of our 15% discount for all ticket categories while saving more when you meet these leading giants, industry players and key stakeholders at Asia's largest tech event. Enter the promo code 'CTACONF04′ when registering and enjoy 15% discount on top of the Early Bird Rates ending on 26 April 2019. Register for the Summit here.
View the Summit Programme here.
#ConnecTechAsia2019