Connect with us at IoT Asia, where Geok Chwee, CEO of Bridge Alliance, will be sharing the stage with industry experts to give her views on IoT and 5G.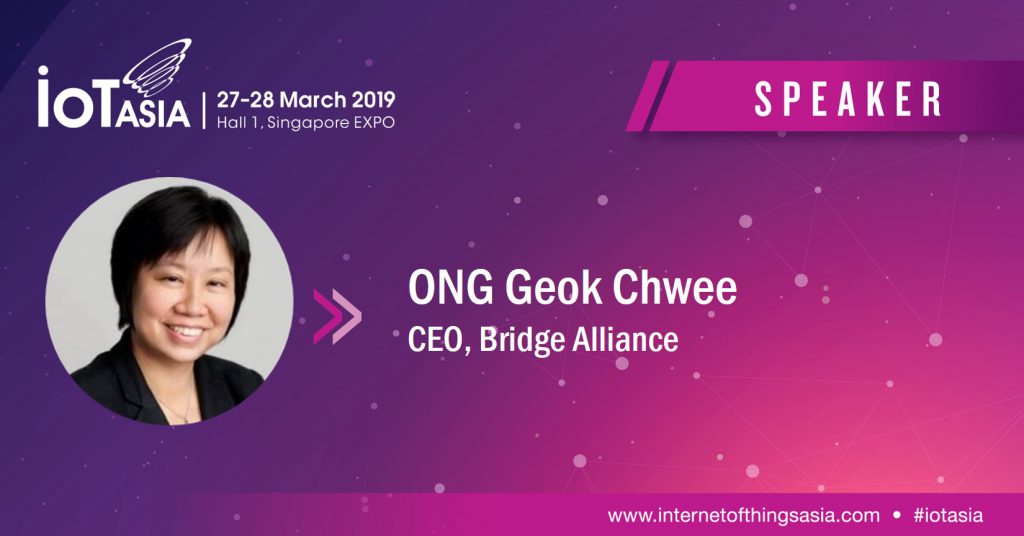 Here are the details of the speaking slots:
Thu, 28 Mar, 1330hr @ CentreStage: PANEL DISCUSSION
Frenzy Over 5G – A Solution in Search of a Problem?
5G has been touted as the next big thing that will enable ambitious new services & capabilities in mobile and IoT. However, prognostications should be examined against the challenges facing telcos in terms of roll-out, competition & regulatory pressures. Similarly, market-oriented offerings & projected use cases need to be validated against consumer receptivity. This discussion will take a closer look at 5G claims versus market demand & needs, consider examples from possible segments where 5G is more likely to make in-roads & factors that could spur broader uptake of 5G capabilities in the APAC region.MODERATOR: Jake SAUNDERS, MD & VP Consulting, ABI Research APAC

PARTICIPANTS:
ONG Geok Chwee, CEO, Bridge Alliance
Eric LONG, Director, IoT Service Product Marketing, Huawei, China
Dr Stephen CHAN, Senior Consultant – Medical Services, Dept of Quality & Innovation, Woodlands Health Campus, Singapore
Yet to get your passes? Click HERE to receive 20% discount off for both All-Access and Single Passes for IoT Asia 2019.
About IoT Asia

IoT Asia is an award winning event that brings solutions providers, technology heads, design / solution architects, engineers, academic institutions, investors and start-ups together for an enriching learning and sharing experience. IoT Asia 2019 will be held from 27 – 28 March in Singapore EXPO. The exhibition and conference will address the interests of the IoT ecosystem players within the 5 key segments – Smart Cities, Industrial IoT, Artificial Intelligence, Blockchain, Data Analytics and Enablers. Visit www.internetofthingsasia.com for more information.
Organiser: SIAA & SingEx Exhibitions Pte Ltd
Tel: +65 6403 2100
Email: sales.iotasia@singex.com
More information about IoT Asia here.