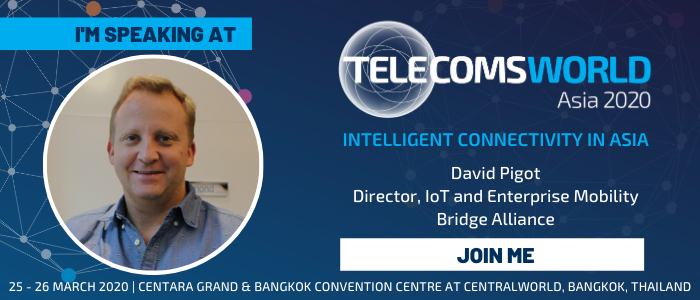 We are headed to Telecoms World Asia in Bangkok again on 25-26 March 2020.
David Pigot, Bridge Alliance's Director of Enterprise and IoT will also be speaking in a panel discussion on "Telcos as the key contributor to the IoT ecosystem" on 26 March.
Speaking alongside Maxime Carpentier, VP of IoT Operations, at True Digital Group, and Pradeep Sreedharan, SVP of IoT Business at Reliance Jio, they will explore how the growth of IoT has meant that operators are no longer operating under traditional business models. They will explore
How can operators navigate the expanding OEM ecosystem to provide a better experience for subscribers?
What challenges face operators in becoming the key enabler of connectivity to the IoT ecosystem?
How do operators improve customer experiences when using multiple IoT devices?
To what extent has IoT blurred the lines between OTT services and telcos?
Yet to get your tickets?
As an association partner of the event, Bridge Alliance members and partners are entitled to 10% off. Do use the code "BA10" when you register.
Curious on what other topics are being discussed? The preliminary agenda can be downloaded from here.
About The Event
Telecoms World Asia is a platform where the industry's leaders can meet, exchange ideas and discuss strategies that will set the course for the telecom businesses for the next decade.
For 2020, the conference has put together an agenda that addresses the key issues that operator are facing today, classified under 5 key themes – Wholesale Carriers, Network Virtualisation, Telco 4.0, 5G and new for 2020, Intelligent Connectivity – with the focus on Intelligent Connectivity in Asia running through the sessions. Come March 2020, we look forward to exciting debates as we welcome over 1000 attendees from Asia Pacific's telecoms industry and beyond in one of the region's fast-developing markets – Bangkok, Thailand.
Download the brochure here.