David Pigot, Director of Enterprise Mobility and IoT at Bridge Alliance and Dr. Ong Geok Chwee, CEO of Bridge Alliance will be participating in panel discussions at Telecom World Asia 2020 on 28 October 2020 so be sure to tune in to catch their discussions.
Join in live from wherever you are, or watch the sessions on demand HERE. As an Association Partner of Telecom World Asia, Bridge Alliance members will receive 10% discount to access Telecom World Asia's virtual networking platform, with the discount/promo code BA10.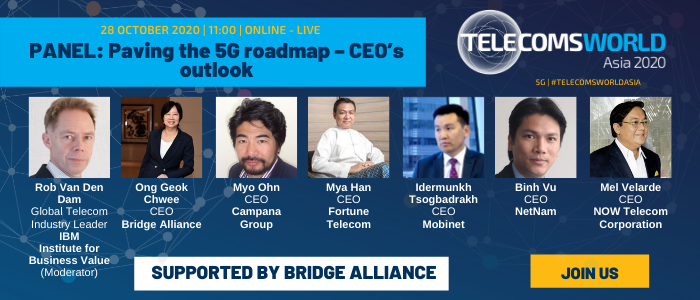 11AM SGT: Paving the 5G Roadmap – CEO Outlook (5G channel)
This panel will be 100% Asian focused – and not necessarily specific to the telcos/countries the panellists represent. Rather CEOs (as a leading market expert) on what the 5G outlook is for Asia. As different markets face different circumstances which require different approaches – how do operators understand 5G development and the roadmap ahead?
In a panel discussion with other CEOs, Geok Chwee will discuss how to set out a clear roadmap that has requirements of the end-user/industry in mind, but also aligns with the timescales and expectations of individual APAC regions, and also how operators can develop a 5G roadmap that works for them.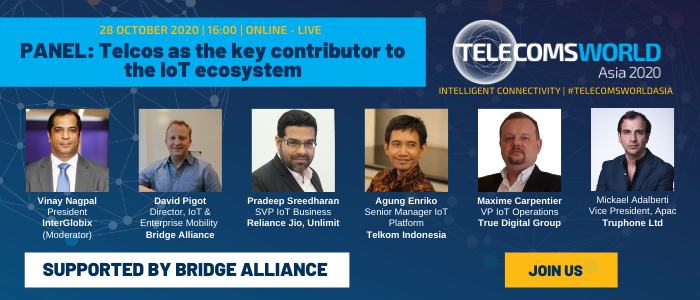 4PM SGT: Telcos as the key contributor to the IoT ecosystem (Intelligent Connectivity Channel)
The growth of IoT has meant that operators are no longer operating under traditional business models – how can operators navigate the expanding OEM ecosystem to provide a better experience for subscribers?
Alongside other panelists, David will discuss what challenges face operators in becoming the key enabler of connectivity to the IoT ecosystem, how do operators improve customer experiences when using multiple IoT devices, and to what extent has IoT blurred the lines between OTT services and telcos.
About Telecoms World Asia 2020
There's never been a better time for Asia's telecom leaders to come together to share their thoughts, solutions and expertise. We just can't do that in person right now. On this three-day virtual event, Telecoms World Asia will bring you insights from live presentations and panel debates across 6 channels by telco, tech and digital leaders.
See the full agenda of speakers and topics here.