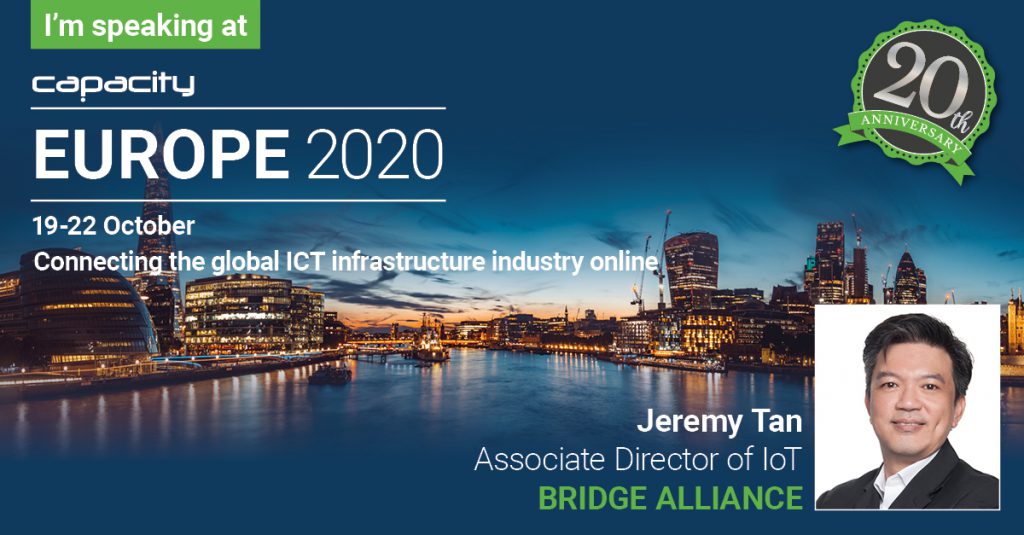 Jeremy Tan, our Associate Director of IoT will be speaking on a panel "IoT: Finding its feet in a 5G World" at Capacity Europe on 21 October, 10:40PM – 11:20AM SGT. Register for your free pass HERE.
Increased demand from consumers and enterprises and the availability of more affordable devices, is driving the adoption of 5G and the Internet of Things (IoT). But as 5G rollouts begin in earnest, its impact on IoT will be limited. As IoT truly discovers its position within the telecoms space, and adoption incrementally increases, the experts will establish its long term value proposition.
Other panelists include:
David O'Byrne, Senior Business Development Manager, Druid Software (moderator)
Rob Tiffany, Vice President, Global Head of IoT Strategy, Ericsson
Deepak Gusain, Director – Business Development Mobility, IoT and Collaboration Services, Middle East, Central Asia, Tata Communications
About the Event
Capacity Europe 2020 is the unmissable annual event in the global ICT infrastructure industry's calendar. It is taking place on 19 – 22 October. Keeping the world connected for 20 years, Capacity Europe unites carrier, data centre, cloud, content, peering, SMS, and satellite communities to network, trade and learn.
The event supports important annual trading deals by offering several meeting platforms to retain clients and engage with new business prospects. Alongside meetings, the event's conference programme covers the latest trends such as softwarisation of carrier networks, TMT's response to Covid-19, the emergence of LEO satellites, business transformation, and global inclusion and diversity initiatives, led by C-level executives.
As Capacity Europe turns 20, this year's event will offer all of the important networking, thought-leadership and branding opportunities through a virtual platform. The entire event has been re-imagined into a blended format, meaning that if we are able to hold a physical event in London this October, all delegates will be able to join us, no matter where they are in the world.