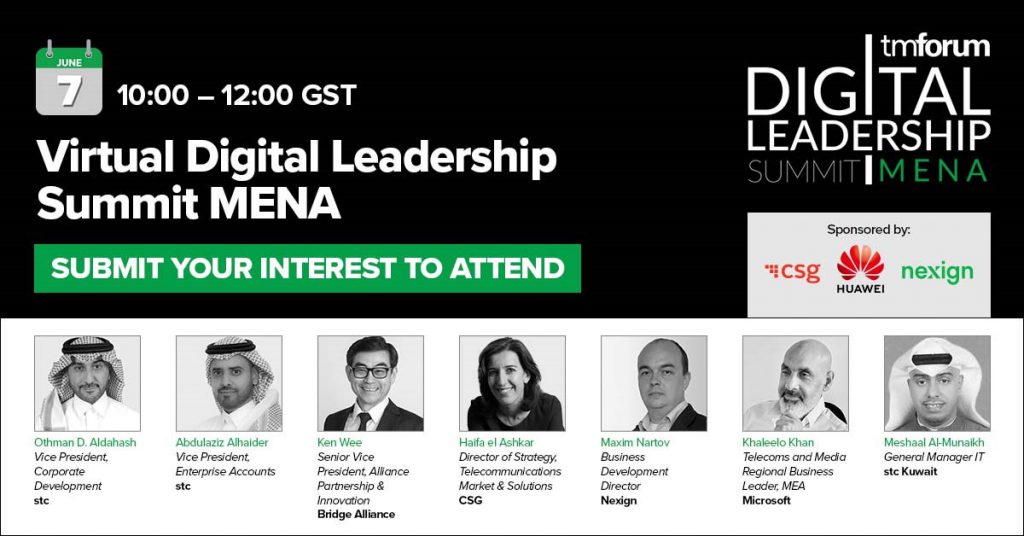 Our SVP of Alliance Partnership and Innovation, Ken Wee, will be speaking on a panel "Building Partner Ecosystems That Will Take CSPs Beyond Connectivity" at TMForum's Digital Leadership Summit MENA. This will be held on 7 June 2021, 11:20AM – 12PM (GST) / 3:20PM – 4PM (SGT).
Register your interest to attend HERE. This event is free for communication service providers.
He will speak alongside Haifa el Ashkar, Director of Strategy, Telecommunications Market & Solutions, CSG, and Khaleelo Khan, Telecoms and Media Regional Business Leader, MEA, Microsoft. Together, they will discuss the following:
How to evolve from digital telco into digital partner
What role should CSPs play in the digital ecosystem?
Finding partners that will allow you to extend your reach and capabilities
Cloud native, softwarization of the network, AI, IoT, edge and network slicing – how are CSPs exploiting technology enablers to build ecosystems?
How to build a reusable, plug-and-play, microservice oriented, AI enabled, multi-vendor, agile architecture that ensures the success of your partners
How do you build a digital ecosystem that attracts and retains digital partners and creates new value?
Changing CSP's skillsets and mindsets to support hyper personalized business models and business process innovation for enterprises
About the event
There has never been a better time for operators to build upon the vital role they played during the pandemic and explore new growth opportunities. Meeting the evolving needs of their customers – both for connectivity and beyond connectivity services and solutions – will allow operators to effectively compete and thrive in the "new normal" world.
Join us for this event to gain insights into what growth opportunities operators in the Middle East and beyond are exploring, how they are diversifying their connectivity and beyond connectivity offerings by building partner ecosystems and which digital technologies are needed to create new value and sustainable growth.