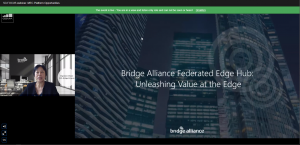 Our CEO, Dr. Ong Geok Chwee will be sharing about "Bridge Alliance Federated Edge Hub – Unleashing Value at the Edge" at GSMA APAC 5G Forum, focused on MEC Platform Opportunities on 1 April, 3PM – 5PM (HK/SG time).
She will also be participating in the closing panel discussion Q&A, moderated by David Turkington, Head of Technology APAC, GSMA alongside Zaif Siddiqi, Head of Global 5G Business, NTT DOCOMO, Devesh Gautam, Vice President – Edge Platforms, Rakuten Mobile, and Henry Calvert, Head of Future Networks, GSMA.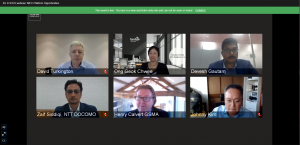 Join this invitation-only event HERE, and catch her presentation and panel discussion. Please note that this is only executive members of APAC 5G Forum and invited executives, and GSMA reserves the right to approve your attendance.
About the event
The convergence of computing and connectivity is necessary to deliver customized services based on specific business needs, and MEC is seen by many in the industry as a critical driver for growth in the 5G era. Localized content, efficient real time data processing and management, and ultra-low latency connectivity are some of the attractive key features that are made possible by MEC enabling enterprise, consumer and sector specific innovative services. MEC can be both technical and commercial solutions for MNOs in enabling them to provide more than "connectivity" based on "enhanced mobile broadband" thus opening opportunities to expand into other new sector specific markets and create new sustainable revenue streams.
This "5G FOCUS: MEC Platform Opportunities" webinar will cover the below areas;
1. Mobile Edge Compute (MEC) in the 5G era
2. Operator Platform, Telco Edge Cloud and Multi-Operator MEC
3. Commercial and technical frameworks
4. MEC enabled enterprise and vertical specific 5G services
5. MEC ecosystem and potential partners