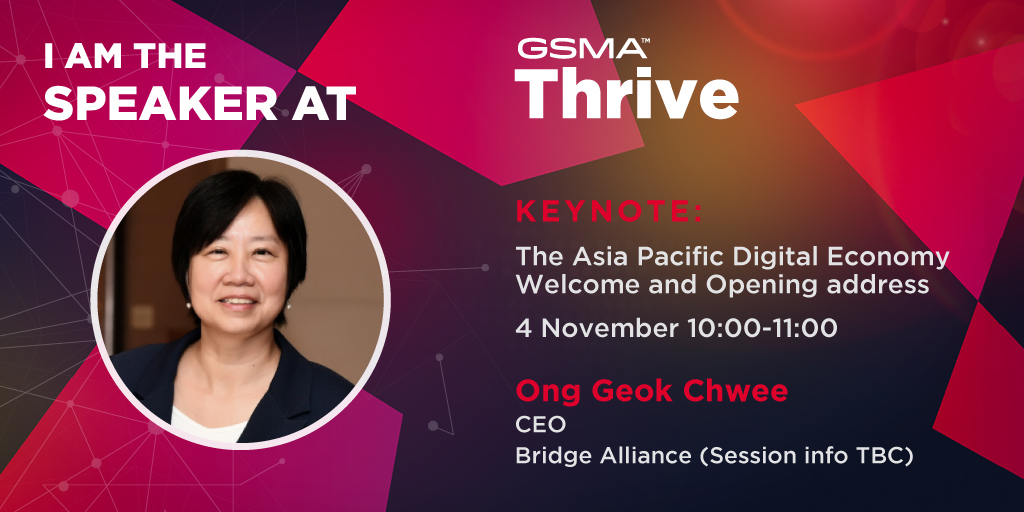 Our CEO, Ong Geok Chwee will be delivering the welcome and opening address on the second day of GSMA Thrive Asia Pacific on 4 November, 10AM SGT. Join the event for free HERE, and catch her address.
GSMA Thrive Day 2: Power of Partnerships in the new normal
Telecoms is part of the fabric of everyday life in Asia Pacific, underpinning services across a variety of sectors including media, healthcare and finance. Today, from SME's to large enterprises across the entire digital value chain are pulling together to create new digital initiatives that delivers a positive outcome in this period of uncertainty. Through greater partnerships and data innovation, is the digital economy ready to bounce back in a post COVID-19 world? Sessions include:
Keynote: The Asia Pacific Digital Economy
A new vision for digital trade
Protecting the Data Economy
About the event
In a time where technologies are transforming society, we come together to empower a new digital nation. We proudly introduce Thrive Asia Pacific, bringing the leaders of our industry together to define strategies and accelerate innovation at the region's biggest technology experience. Join the region's leaders, innovators and change makers for three days of online discussion. We'll be uncovering how the adoption of new technologies is transforming APAC and beyond to drive a new digital nation.