Join us for our next be in conversation webinar on 11 Nov, 11AM (SGT), register HERE.
With the long-term shift to remote work coupled with the digital world evolving the needs of consumers, enterprises are set to usher in a new era of customer engagement. As more enterprises turn to Communications Platform-as-a-Service (CPaaS) to better engage employees and foster customer loyalty, the ecosystem of mobile operators, enterprises and developer community are now focused on innovation to bring new opportunities for all.
Join us for our webinar and learn about:
What the future of customer engagement looks like
The innovation of CPaaS platforms, including the shift from basic API implementations to more complex applications
How partnerships and technologies can enhance customer loyalty, employee engagement and productivity, and more
AGENDA
11:00 Opening Remarks
11:05 The Era of CPaaS: A major leap in the area of digitalisation
11:20 CPaaS: Empowering Customer Experience and Meeting New Expectations
11:40 Enabling Enterprise's New Business Services with CPaaS
Dharma Simorangkir (Telkomsel)
12:00 PANEL: Power the Future of Customer Engagement: Technology Trends and The Ecosystem
Moderator: Loo Boon Chee (Bridge Alliance), William Lim (Hoiio), Ananth Siva (Movius), Eddie DeCurtis (LivePerson)
12:30 End of Event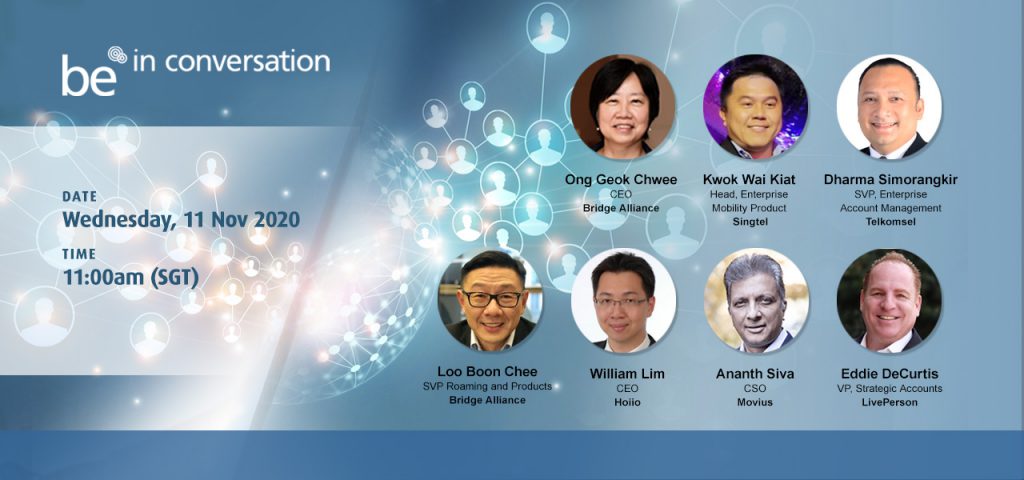 NOTICE TO ATTENDEES
By supplying your contact information, you authorize Bridge Mobile Pte. Ltd. to contact you with further information. Please note by attending the webinar, you agree to photographs and/or videos of you being taken during the event for purposes of publishing in future promotional materials for the event or in Bridge's corporate video.