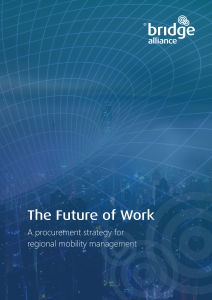 Five years from now, many of us will look back and see 2020 as the year that revolutionized the way we work. While the digital transformation of the workplace has been gaining momentum in recent years, seen as The Future of Work, not many enterprises have been in a rush to adapt.
As the World Health Organization declared COVID-19 a pandemic in March, things changed, fast. To protect employees from the spread of the disease, businesses globally have since adopted a remote workforce strategy, whether they were ready or not.
This begs the question: how will we work once the pandemic has eased? What is the Future of Work, and how can mobile operators help organisations adjust their processes and adapt to the "new normal"?
While some enterprises have sorted out their mobile strategy, most enterprises and their procurement officers will face a massive headache of assessing, negotiating, tracking, and paying for mobility solutions across segmented markets.
We discuss these problems and their solutions in this whitepaper on this Future of Work:
Regional mobility in the new normal
How the forces of Asia's market fragmentation holds them back
The status quo, and why it must change
How our region-wide Bridge Enterprise Services and Solutions (BESS) can improve productivity and reduce organisations' cost