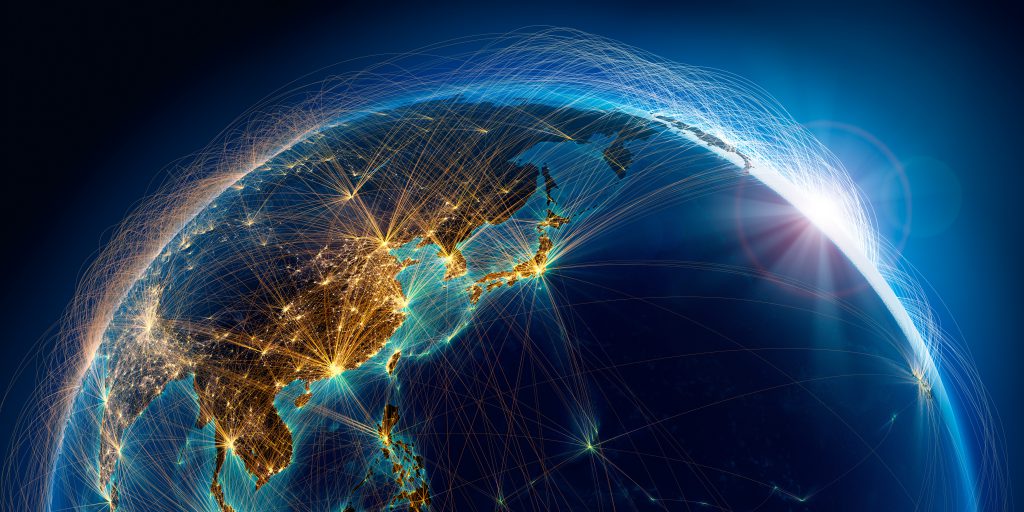 Our CEO Geok Chwee Ong recently spoke with Dan Baker, Editor of Black Swan Telecom Journal on how we help simplify and harmonize our members' operations in support of MNCs, as their Gateway to Asia. Read more about how mobility and regional connectivity are paving the road for two huge industries to come together in Asia: auto manufacturing and telecoms.
Note: This interview first appeared on Black Swan Telecom Journal.
—-
Enterprises who aim to use mobile connectivity across a region of the world face some major challenges, such as:
Dealing with multiple operators across the region due to market fragmentation;
Complying with regulatory restrictions on the use of permanent roaming connectivity;
Integrating with country-specific connectivity platforms, and;
Creating a central provisioning platform to manage the provisioning of connectivity services.
To capture regional mobile connectivity opportunities, mobile operators in countries across Asia Pacific would need to collaborate to solve these massive problems for enterprises.
The Connected Cars or Advance Integrated Vehicle Telematics area is one such area where mobile network operator cooperation is absolutely essential.
At first glance, the global market for advanced connected cars looks like a green-light commercial opportunity:
With almost 7 million luxury cars sold worldwide each year, buyers have proven they will pay a premium price for high-quality vehicles with advanced electronics inside.
Automakers are steadily solving the challenge of real-time intelligence exchange between car and central control computers. And non-real-time data exchange will suffice till 5G is widely deployed and high-QoS network slicing is achieved.
However, the global deployment of connected cars is far more complex than it appears.
Fortunately in Asia, an independent company, Bridge Alliance, has stepped up to provide the necessary telco cooperation to solve the deep connectivity and regional issues required to enable the market for connected cars to "step on the gas".
Bridge Alliance is a leading Asia Pacific mobile alliance that provides a one-stop service that enables multi-national corporations (MNCs) to bring IoT and global mobility-connected products and services to Asia.
Positioned as the Gateway to Asia, Bridge Alliance helps simplify and harmonize their member operators' services and resources across their global footprint.
I interviewed Bridge Alliance's CEO, Ong Geok Chwee, who explains how two huge industries are successfully coming together in Asia — auto manufacturers and telcos. Enjoy.
| | |
| --- | --- |
| | Dan Baker, Editor, Black Swan Telecom Journal: Ong, could you begin with a brief backgrounder on Bridge Alliance's founding and mission? |
Ong Geok Chwee: Sure, Dan. Bridge Alliance was formed in 2004 as an independent company. It is owned by ten tier-1 Asian telcos: SingTel — Singapore; MAXIS — Malaysia; AirTel — India; Telkomsel — Indonesia; AIS — Thailand; Globe — Philippines; Optus — Australia; SK Telecom — South Korea; Taiwan Mobile — Taiwan; and, CSL (Hong Kong Telecom) — Hong Kong.
Today, we have expanded to 34 member operators with coverage in the Middle East and Africa as well.
When Bridge Alliance was formed, the initial focus was to create a best-in-class roaming experience and value for roaming customers in the region.
We also recognized that multi-national corporations (MNCs) with a presence in Asia want control and visibility over their mobility spend in each of their regional offices. Bridge Alliance helps MNCs by giving them mobility services across its footprint. We also provide a portal to manage their ordering of mobility service where they can see their mobility spend across their regional offices in their language of choice.
About six or seven years ago, we saw the multi-country connectivity challenges faced by the automotive industry. These challenges include regulatory, negotiation with local telcos and different IoT platform interfaces, to name but a few.
MNCs — especially those in the automotive field — came to us to be a single point of contact to help them simplify multi-domestic connectivity access. This will allow them to provision and manage their connectivity life cycle needs across our footprint.
Together with our Alliance operators, we have harmonized an offering across our footprint. The lead operator then uses our common IoT connectivity platform to link to the other operator members delivering a single interface to MNCs, greatly simplifying their connectivity provisioning, control, and life cycle management.
With our extensive connectivity among our member operators, we are well positioned to be the "Gateway to Asia" for IoT connectivity, enterprise mobility services and future 5G services.
| | |
| --- | --- |
| | It's truly impressive connecting telecoms across so many countries, languages and cultures. |
Asia is very diverse in its culture, languages, market maturity and regulatory requirements. These often pose challenges to MNCs entering the Asia market. MNCs seek partners who can help them ease their pain in deploying solutions across multiple markets.
Regulatory requirements also differ across markets. In some markets, such as Indonesia, data residency is a requirement. The need for local partners who understand each specific market requirement is an important factor in MNC's IoT regional deployment strategy.
So, accounting for these regulatory issues and different local IoT platform integration challenges, we pull together the demands of each operator to maintain a IoT connectivity platform. This connects to our member operator mobile network and simplifies network interface for companies requiring connectivity services across multiple markets in Bridge Alliance footprint. Together, we give our operator members a big competitive edge as they deploy IoT.
At my local university library, I found the 2019 edition of Ward's Automotive Yearbook, an annual report that shows where every car maker in the world sells its cars.

Figuring the near-term market for connected cars is the luxury car segment, I counted up the sales of the high volume brands: Audi, BMW, Daimler, and Tesla cars. I wanted to cover Lexus, but that brand was not broken out under Toyota's numbers.

As you'd expect, Europe leads the world in luxury car sales, and that's not surprising: most of the cars are manufactured there. But I was surprised that China's unit sales beat those of the USA, Germany and the UK. All in all, the Asian market for luxury cars is almost equal to North America's.

Do you agree that luxury cars are a key market? And how are you leveraging your multi-region connectivity solution to enable connected cars to take off in Asia?
Actually there's a strong correlation between connectivity and the buying motives of luxury car buyers. That's what McKinsey reported in a 2019 study advising automotive OEMs. They said "superior connectivity" has already become a decisive factor when buying luxury cars — and the percentage of consumers willing to change car brands for better connectivity has doubled.
Let me explain why a European car maker recently awarded a huge contract to us.
Bridge Alliance has a commercial model that enables one of our member operators to champion the contract with the car manufacturer, removing the hassle of customer signing multiple contracts with each local operator across Asia.
This sets up customers with strong local support from the leading mobile operator in each market while removing the friction of contract negotiation with each of them. Bridge Alliance has a commercial model which enables our member operators to support each other seamlessly to deliver solutions across multiple market for MNCs.
Besides the commercial model, the managed IoT connectivity platform that we provide also reduces the complexity in solutioning across different markets.
| | |
| --- | --- |
| | What were some of the factors that convinced the big European auto manufacturer to choose the Bridge Alliance to supply the mobile connectivity? |
Well, I think the value begins with the efficiency and flexibility the auto maker gains when mobile connectivity is solved across multiple markets.
You see, the car makers are looking at the big picture. They are asking themselves: How can I manage this car's life cycle top-to-bottom — from factory floor, to country destination, to car dealer, to owner, and then continuous after-sale services to the owner (or future owners) of the car?
For example, if the car is built in a Thailand factory, the car is first connected to AIS, a mobile operator and our member in Thailand. However, when the car is shipped, say, to Singapore, it doesn't make sense to have the AIS SIM on roaming service in Singapore. The embedded SIM solution will enable SIM profile swap over-the-air to that of the local network operator.
Think of the great efficiencies the car maker gains with that. Remember, as the car is being built, you're not quite sure what country it will eventually be shipped to. Shipments may be market driven.
With the managed IoT connectivity platform that we have across markets, the car maker gains complete control over what is going on in the connectivity area alone. That's the first step to collecting all kinds of data from your connected car and feeding it back to your central control center.
With IoT connectivity, car manufacturers are looking at innovations that can transform their business model from manufacturing to service model. Innovative services such as infotainment services can be provided by car manufacturers to car owners once the car is "IoT enabled".
And seamless connectivity, while it looks like a simple thing to accomplish, is very challenging. Yet once the connectivity is solved, it unlocks tremendous value for the car maker and customer.
| | |
| --- | --- |
| | Now it's important that readers understand your charter is to work for Alliance members only. |
Yes that is right, since Bridge Alliance is a private, independent company set up by the telco shareholders. We are a tightly-knit community with one premier mobile operator in each market, collaborating closely in the last 17 years to unlock collective values leveraging our scale and scope of business. We have a dedicated team of staff that focuses our energy on unlocking value for our member operators across roaming, IoT, enterprise mobility, group sourcing and more.
In IoT, we also collaborate with partners like AT&T in the US and Global M2M in Europe.
And we find that MNCs treat Asia as a unique region. The decision-maker may sit in Berlin, Germany, but their lead executives in Asia are big influencers.
As the future of IoT and 5G unfolds, every one of the key telecoms and alliances will focus on a particular region of the world. Our focus is on delivering the most reliable and robust connectivity platform across the whole Asian market.
| | |
| --- | --- |
| | At the same time, you also act as an industry forum. I see that you put on an annual conference where many high-level telco executives from Asia speak. |
Yes, we organize conferences to bring our members together. These are closed-door events where member operators can share best practices among the Alliance members and explore new areas to collaborate.
Besides our own forums, we work very closely with industry organizations such as GSMA, TM Forum and more. We believe that we can propel the industry forward when we collaborate across different ecosystems of partners.
| | |
| --- | --- |
| | Ong, thanks for this fascinating briefing on IoT in Asia. It wouldn't surprise to me to see other alliances form in Europe, Asia and elsewhere that follow your business model. It's pretty compelling the way you enable cooperation where needed — and pave the way for telcos in the region is become multi-national systems integrators. |
Thanks, Dan. As we move into the 5G era, our alliance members will turn to Bridge Alliance again to unlock even more opportunities. 5G will also open up new use cases for massive IoT connectivity in different industries such as smart factory.
We will continue to work closely with our 34 member operators to enable MNCs in the 5G world, delivering seamless connectivity and solutions to power the next normal.