Join us at Industrial Transformation ASIA-PACIFIC where Geok Chwee will be sharing about extending the reach and borderlessness of Industrial IoT at the Industrial IoT Forum.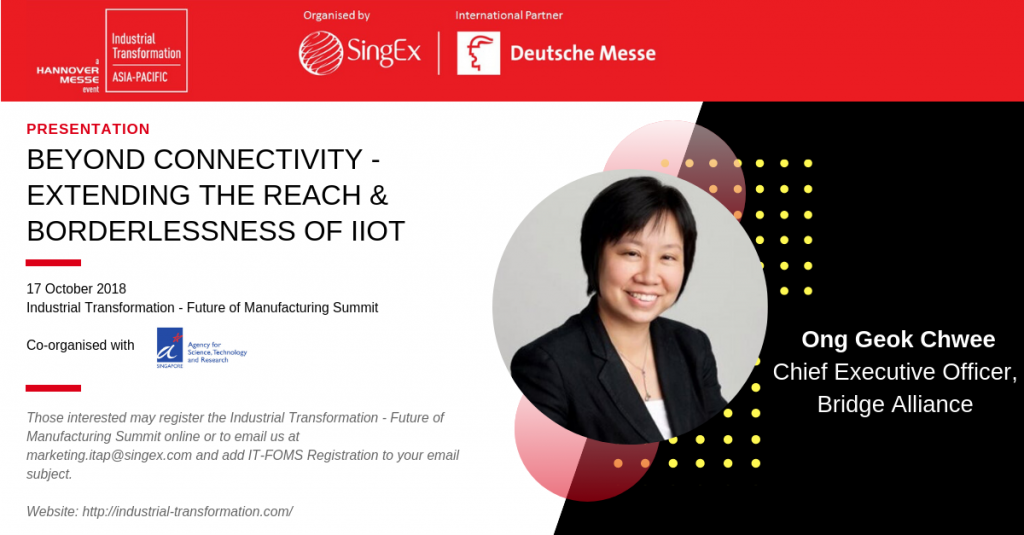 Presentation Details:
Wed, 17 October 2018, 3.10pm
Singapore EXPO Hall 1, Plenary Room
Beyond Connectivity – Extending the Reach & Borderlessness of IIoT
PRESENTATION
Enterprises deploying regional IIoT & M2M services & solutions across various countries will increasingly require reliable network connectivity. This implies reliance on partnerships with network providers that can ensure smooth, secure and reliable services. This presentation will provide insights into evaluative parameters for enterprises to consider against their needs.
Industrial Transformation ASIA-PACIFIC, organised by SingEx Exhibitions and international partner, Deutsche Messe, is specially curated for the region as it ushers in the 4th Industrial Revolution. The strategic platform is shaped by the leaders and experts in support of the region's manufacturing industry growth and transformative initiatives, and will bring together an ecosystem of stakeholders to learn, share, collaborate, network and do business with each other. The first-of-its-kind trade show in Asia Pacific that will take place at Singapore EXPO from 16 to 18 October 2018.