Analysts used to say that by 2020, at least 20 billion Internet-of-Things (IoT) devices would be connected globally. That prediction hasn't come to pass.
Telcos have yet to provide ubiquity of coverage to support such a massive deployment of IoT, and solution providers have yet to demonstrate the added value connected things can give to end users.
These were some of the issues raised in the webinar, "IoT: Finding its feet in a 5G world" held during Capacity Europe in October 2020. This article also discusses challenges and solutions raised at "Telcos as the key contributor to the IoT ecosystem," a webinar that took place during Telecoms World Asia in October.
Why IoT is still finding its feet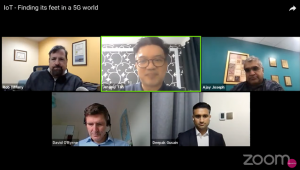 "Lots of elements are needed in the ecosystem to make IoT work," says Jeremy Tan, Associate Director of IoT, Bridge Alliance.
For example, regulators, original equipment manufacturers (OEMs), network operators, and industry-specific governing bodies need to agree on security standards. This is no mean feat, for "in the act of creating an IoT system, you're also creating the largest attack surface in the history of computing," says Rob Tiffany, Vice President and Head of IoT Strategy, Ericsson.
As such, security by design is becoming a fundamental approach to the development of IoT devices and systems. Some countries, such as Singapore, have adopted security-by-design principles in their security ratings of devices.
And even though IoT is touted to herald a new age of robotics and automation, configuring and deploying smart solutions still takes a lot of manual work on both the software and hardware fronts. Such a labour-intensive process inevitably slows down development and drives up costs.
That's not the only manpower-related challenge. It's tough to assemble a team with all the domain expertise you need to set up and deploy an IoT system. A study by Inmarsat found that a lack of IoT skills is hampering innovation in mining, even though this sector has been one of the early adopters. And a multi-national survey by Microsoft showed that an average of 47% of companies adopting IoT are suffering from a skills shortage.
There's also the issue of cost. The expense of producing IoT solutions is currently too high that it cannot justify mass production. Cellular connectivity to support IoT systems can also become expensive, partly due to the lack of cellular standardisation. Ajay Joseph, Chief Technology Officer, iBasis, adds that certifying a device with a single mobile network operator (MNO) in the US involves a lengthy process and steep fees. This is more prevailing in the Asia Pacific region, especially in the South East market, which needs to have harmonised IoT connectivity and local support framework for easier deployment.
Read our whitepaper on how you can Navigate APAC's Fragmented IoT Landscape here
Finally, 5G is a nascent technology. While over half of MNOs in APAC are investing in 5G, 4G remains dominant, and telcos and enterprises are still testing the waters and determining use cases for 5G adoption. To come to fruition, many IoT solutions—think smart cities, industrial IoT, and communication through virtual and augmented reality—need 5G's extremely low latency, ability to support a massive amount of connected devices within one area, and security.
Telco operators can champion IoT development and adoption

A crucial step is evolving the business model

With the advent of 5G, telcos have more opportunity to contribute to the IoT ecosystem. But to become valuable players in IoT, they need to evaluate their business case. They need to develop ways "to sell solutions rather than the handsets and devices that we've traditionally sold," said David Pigot, Director of Enterprise Mobility and IoT, speaking at Telecom World Asia.
This means digging deep to understand customers' problems, and delivering their desired business outcome and service. And what the customer needs at the moment can supersede our own grand vision of IoT.
For example, the IoT vision for smart cities might entail billions of connected devices sharing data over a city-wide network. This requires 5G to run smoothly. But current demands for smart-city solutions might focus simply on smart metres, which work on current 4G networks, as they're static.
However, Tan emphasises that at the end of the day, 4G IoT technology might not meet the needs of enterprises.
Telcos also need to focus on use cases that will drive IoT monetisation—for example, private 5G networks for specific sectors that require high speed, high bandwidth, and extra security. They could reserve bandwidth for special cases that need assurance of reliable, round-the-clock connection, such as for sensors in nuclear power plants. Cross-border 5G roaming is another area telcos can explore, especially with the help of region-wide partnerships like Bridge Alliance.
Telcos can also work on providing predictable pricing for connectivity to IoT developers and service providers. This allows them to factor in the cost of connectivity in determining the price of a system or solution.
Be selective and strategic about the verticals you enter

Telcos have found opportunities to create end-to-end IoT solutions for verticals. The automotive sector is the largest international business for IoT, while utilities present massive opportunities domestically.
David Pigot points out the importance of having domain knowledge, as well as the difficulty in acquiring it.
"That sort of knowledge across so many verticals is not realistic for telcos," says Pigot. Instead, he encourages telcos to focus on what they do well and on areas where they have the opportunity to succeed. What value can the telco provide in terms of knowledge, experience, support, managed services, collaborations, and more?
A prudent approach would be to have a combination of specialists within the telco and third-party specialist partners.
It all boils down to collaboration
All these solutions can only be made possible with collaboration.
"The key word for me is collaboration. We can't do this ourselves as telco operators," says Pigot.
"There is a lot of complexity involved in offering solutions across different geographies in different states of evolution, dealing with different regulatory frameworks and conditions, and needing different partners to launch solutions in countries," he adds.
Telcos may need to collaborate with one another to provide solutions, such as multi-domestic connectivity. It's also essential to work with other players in the IoT ecosystem who can share their expertise and who understand the needs of specific verticals. Only by establishing strategic partnerships can the IoT industry can develop innovative solutions and finally achieve scale. It would be music to the ears if we have a single entity to solve these fragmented challenges and have a unified solution for multi-domestic deployment.
Interested to find out how Bridge Alliance can help? Get in touch with us.